Dr. Norma Zúñiga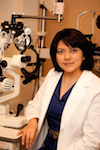 Dr. Norma Zúñiga spent her formative years in Ft Lauderdale, Fl. She graduated from Florida Atlantic University with a Bachelor's in Biology. Also in Florida, Dr. Zúñiga attended Nova Southeastern University from which she graduated with a Bachelor's in Vision Sciences and a Doctorate in Optometry. Dr. Zúñiga has received awards for clinical excellence in contact lens fittings and her areas of interest include glaucoma, contact lenses and pediatrics. She is a current member of the College of Optometrist in Visual Development, the Georgia Optometric Association and the American Optometric Association.
Dr. Paul Suji

Dr. Paul Suji graduated from Nova Southeastern University with a Doctorate in Optometry. He also earned a Bachelor's degree in Biology at Florida Atlantic University and a Bachelor's degree in Vision Sciences at Nova Southeastern University. Dr. Suji is a member of the American Optometric Association and the Georgia Optometric Association. He has extensive clinical experience in the diagnosis and treatment of ocular conditions and diseases. Dr. Suji is bilingual, speaking both Spanish and English.
He enjoys spending time his wife, also a colleague, and likes running, cycling and traveling.
Kajal Patel
Kajal was born in India and raised in Ohio. She graduated from the University of Tennessee in 2012 with a Bachelors of Food Science and Technology. When not working or in school, Kajal enjoys traveling and spending time with family. She also enjoys playing tennis and swimming during free time.