Dr. Norma Zúñiga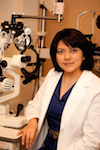 Dr. Norma Zúñiga spent her formative years in Ft Lauderdale, Fl. She graduated from Florida Atlantic University with a Bachelor's in Biology. Also in Florida, Dr. Zúñiga attended Nova Southeastern University from which she graduated with a Bachelor's in Vision Sciences and a Doctorate in Optometry. Dr. Zúñiga has received awards for clinical excellence in contact lens fittings and her areas of interest include glaucoma, contact lenses and pediatrics. She is a current member of the College of Optometrist in Visual Development, the Georgia Optometric Association and the American Optometric Association.
Dr. Paul Suji

Dr. Paul Suji graduated from Nova Southeastern University with a Doctorate in Optometry. He also earned a Bachelor's degree in Biology at Florida Atlantic University and a Bachelor's degree in Vision Sciences at Nova Southeastern University. Dr. Suji is a member of the American Optometric Association and the Georgia Optometric Association. He has extensive clinical experience in the diagnosis and treatment of ocular conditions and diseases. Dr. Suji is bilingual, speaking both Spanish and English.
He enjoys spending time his wife, also a colleague, and likes running, cycling and traveling.
Krupa Patel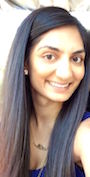 Krupa grew up in London, England, and moved to Georgia in 2002. She attended Kennesaw State University and graduated with a psychology degree in 2011. When not at work, Krupa enjoys spending time with family and friends. Krupa also likes to travel and meet new people. She has worked in the optical field since 2007 and enjoys working at Peachtree Eye Associates. Krupa is our Office Manager.
Kajal Patel
Kajal was born in India and raised in Ohio. She graduated from the University of Tennessee in 2012 with a Bachelors of Food Science and Technology. When not working or in school, Kajal enjoys traveling and spending time with family. She also enjoys playing tennis and swimming during free time.
Puja Patel

Puja Patel was born and raised in England. She graduated with a Bachelor's degree in Chemistry from Valdosta State University in 2012. Puja is currently pursuing a master's degree in Clinical Laboratory Science. She's passionate about her career goals. In her time off , Puja enjoys time with family and traveling to new places. She also enjoys nature and spending time outdoors.
April Kongmanichanh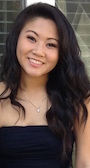 April Kongmanichanh is currently a freshman majoring in biology at Georgia State University. She plans to pursue a career as a pediatrician. When not at work or school, April enjoys spending time with friends and exercising. Her hobbies include drawing, baking, and playing flute.
Karen Rendon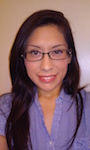 Karen Rendon was born and raised in Marietta, GA. She is a certified nurse assistant who enjoys working with people of all ages. She has recently joined our practice and is eager to join the Peachtree Eye Associates family. Karen enjoys spending her free time with friends and family, especially her two lovely daughters.
Renee Jacobi

Renee is from Lawrenceville, GA and graduated from high school in 2013. She attends the University of West Georgia majoring in management. She also plays the bass clarinet in a music band.